A quick return of the night trains!
Objective night train aims to bring together the various actors and stakeholders in Europe and join forces with the goal of getting night trains back on track quickly. Together, let's take action for the return of night trains in Europe!
To be effectively and relevant in logistics chains, rail freight needs to be:
On-time
Scheduled
Fast
Reliable
The sad disappearance of night trains (2000 – ?)
1994: The Geneva – Moscow night train disappears.
2009: The Swiss Federal Railways (SBB) leaves the night train market, taking the last night train out of Switzerland, the Geneva – Rome night train.
2012: Last night train Zurich – Geneva – Barcelona.
2000-2010: most night trains disappear in Europe.
A striking example: France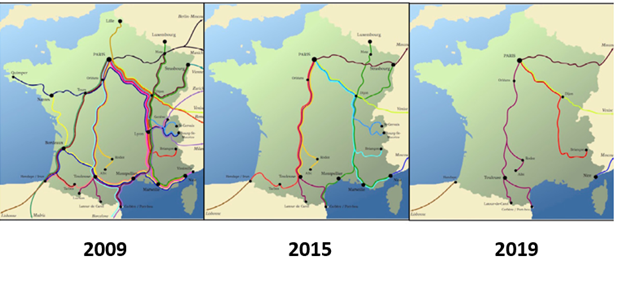 One solution: Combining passenger and freight carriages
The passenger train provides these guarantees expected by freight (with high added value).
In return, the passenger component benefits from the financial contribution of freight to the payment of traction costs and the costs of using train paths.
The mixed freight/passenger train (F/P) by pooling these costs and optimising capacity makes it possible to make rail traffic profitable, as it would not have sustainable economic models in isolation in the absence of public subsidies.
The FP train is the solution for recreating efficient night-time rail services for passengers and shippers.
The mixed train takes advantage of the seasonality of passenger and freight demand to optimize train filling.…
Example: the car-sleeper train is an F/P train. It combines passenger cars with sleeping seats and car carriers capable of speeds of 99mph. …

The Lunatrains are intended to combine these passenger coaches with wagons for diversified freight such as containers and swap bodies.
The incumbent railway companies operate or have operated freight trains at speeds of up to 200 km/h. A covered freight wagon at more than 260 km/h on the Lille – Calais high-speed line towed by a TGV train under test to test the stability of the freight wagon's bogies at commercial speeds of 124 mph.